Dear JVAS Community,
Spring is here, friends, with new birds passing through our yards, flowers of different varieties emerging from the ground, bees buzzing, butterflies floating by... and the temperature is rising. You might be thinking to yourself, "What can I do to help support the birds even more?" And I would say, "Consider planting some native plants!"
According to Audubon, "In the United States, a native plant is defined as one that was naturally found in a particular area before European colonization. Native plants are the foundation of a region's biodiversity, providing essential food sources and shelter for birds, especially those threatened by the changing climate. Since native plants are adapted to local precipitation and soil conditions, they generally require less upkeep, therefore helping the environment and saving you time, water, and money."
Plants that are native to the areas where you live have the greatest number of benefits. They support birds and other wildlife through many stages of their lifecycle. They provide food in the form of seeds, nectar, berries, and nuts. Native plants play an important role in supporting insect species that are critical to the survival of nestlings and migrating birds. Native plants also contribute to healthier, more resilient human communities by more sustainably adding shade, storing carbon, and absorbing storm water to help reduce flooding and polluted run-off after storms than non-native plants.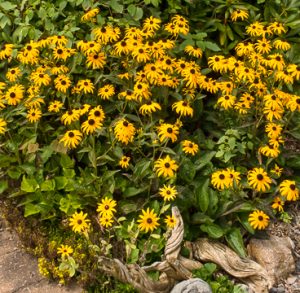 One of my favorite native plants that I enjoy each year is the black-eyed Susan. This is an herbaceous annual which grows one to two feet tall in full sun in moist to dry, well-drained soil. The daisy-like flowers are yellow with a brownish-purple center, and bloom on rough stalks from June to October. Black-eyed Susan attracts birds such as wood warblers, cardinals, grosbeaks and wrens for its seeds and pollinating insects for its nectar, and is resistant to browsing by deer.
Here are some helpful resources from the National Audubon website to help understand Native Plants and improving your backyard habitat for wildlife:
Thanks for continuing to help our birds and other wildlife!