The Juniata Valley Audubon Society 2014 Conservation Award was presented to Ron Singer, the founder of the Jacks Mountain Hawk Watch, at our Annual Banquet in April. Ron started watching migrating birds on Jacks Mountain in Mifflin Co. almost 40 years ago, before many people knew that the mountains in the ridge and valley province in Pennsylvania were critical flyways for thousands of birds. Ron's particular interest was documenting the hawks and eagles that migrate over Jacks each year. Ron is still very active today, as he is the main facilitator and compiler of the Hawk Watch. Ron organizes a fall hawk watch each year, and all data is sent to the Hawk Migration Association of North America (HMANA). You can access this data on the Jacks Mountain page at hawkcount.org.
Because of his love of the mountains that surround him, Ron has helped with Mid-State Trail 
maintenance and he was instrumental in organizing a large-scale clean-up project along the sides of the Jacks Mountain Overlook which removed huge amount of trash that had been dumped there for decades.
Ron spends innumerable hours on top of Jacks sharing his love of migrating raptors and his expert identification skills with everyone who stops during the migration season. His leadership and dedication to the Jacks Mountain Hawk Watch has also ignited a larger group of people to form known as Friends of Jacks Mountain. This new organization is a community action group that was formed because the Jacks Mountain Hawk watch is threatened by industrial wind turbine development on Jacks Mountain.
The Juniata Valley Audubon Society 2014 Conservation Award honors Ron's dedication to observing and documenting raptor migration, as well as founding and maintaining the Hawk Watch at Jacks Mountain.
*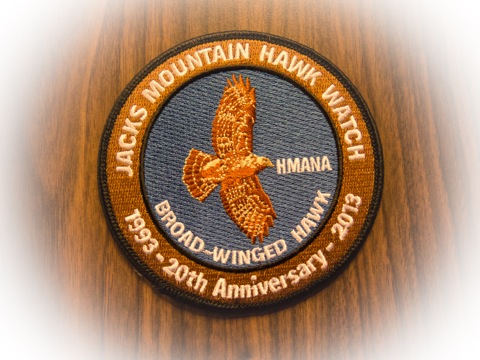 The Jacks Mountain Hawk Watch has a commemorative patch for sale. Email Ron Singer at [email protected] if you would like to purchase one for $5.70, which includes shipping. The patch features a Broad-winged Hawk, since thousands of them migrate over Jacks each fall.
You can learn more about the Jacks Mountain Hawk Watch at their webpage.