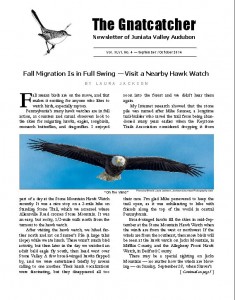 The September/October issue of JVAS' newsletter the Gnatcatcher includes an original nature essay by Marcia Bonta as well as a full explanation for why everyone who attends our September program meeting will receive a roll of toilet paper. You can read it on Issuu or download the PDF from our online Gnatcatcher archive.
The issue includes a full schedule of programs and field trips through December, which are also now here on the website. (The web descriptions link to the field trip locations on Google maps, may may be of use in finding some of the more obscure places.)
UPDATE: We have new editors: Terri and Alan Swann. Thanks to everyone who expressed interest.

Finally, we desperately need a new volunteer to edit the Gnatcatcher. Our previous editor, Ruby Becker, has had to step back due to other commitments, and her predecessor Charlie Hoyer was able to take over for the Sept/Oct issue (thanks, Charlie!) but now we do need a new editor. If you have decent copy-editing and organizational skills and are handy with word-processing software, we'd love to hear from you. Both Ruby and Charlie are perfectionists with intimidatingly good design skills, but we'd be satisfied with a much more basic approach, as long as the content is good and the issues are ready in time. The newsletter is published 4 - 6 times a year. The editor does not have to provide content, as members will provide articles and information for each issue. Anyone interested should email JVAS President Laura Jackson: mljackson2 [at] embarqmail.com for more details.