Reprinted from the Sept-Oct issue of the Gnatcatcher.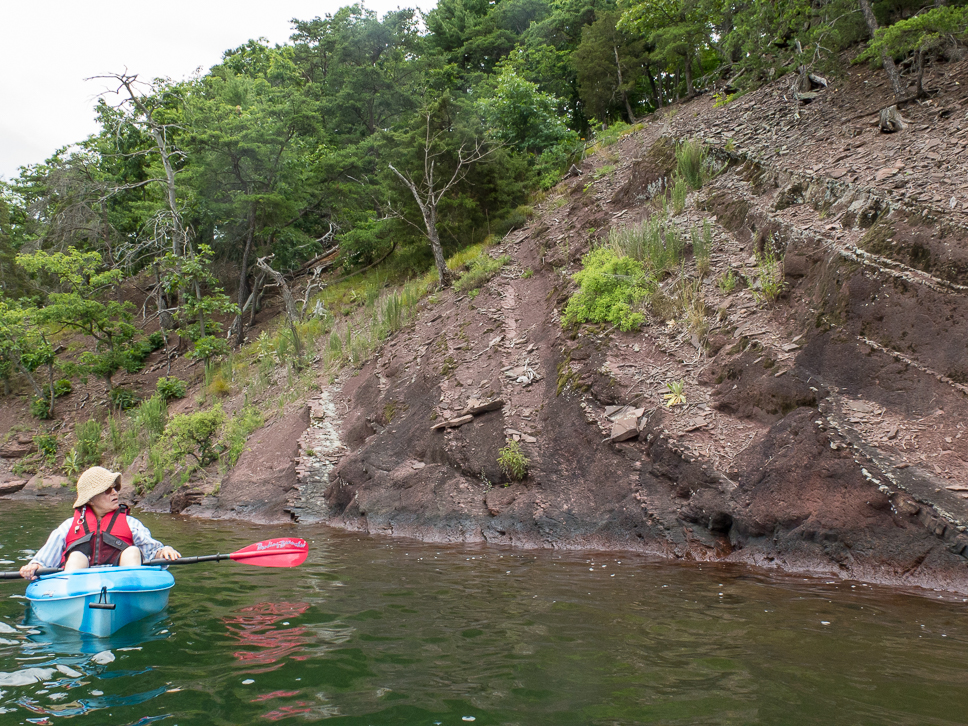 It was a surprisingly pleasant day in late June when we kayaked to Hawn's Bridge Peninsula in Lake Raystown. We deliberately picked a weekday adventure, to avoid much of the big boat traffic, but we still had to negotiate a few big waves from motor boats. We put in at Snyder's Run Boat Launch and leisurely paddled along the shoreline. There were just five of us: my husband Mike and me, JVAS member Alice Fleischer, Dr. Eric Burkhart, and his summer intern, Teal Jordan.
We paddled slowly, observing both native and invasive plants that were growing along the water's edge and into the forest that surrounds most of Raystown Dam. It was a beautiful morning, calm and peaceful, except for the occasional roar of big boats or jet skis. Dr. Burkhart, an expert in wild plant conservation and invasive plants at Penn State, was intently scanning the shoreline, identifying plants that were growing near the water's edge, or even in shallow water.
Our intent was not just a casual outing; we were heading toward Hawn's Bridge Peninsula, about an hour's paddle away on the other side of the lake. Hawn's Bridge Peninsula is a wild, forested tongue of land that juts out into the lake, at the base of Terrace Mountain. It contains rare shale barrens areas with associated rare plants and insects. We wanted to explore the Peninsula, to learn more about this unusual shale barrens community before it might disappear. The Peninsula is under threat due to a proposed development project.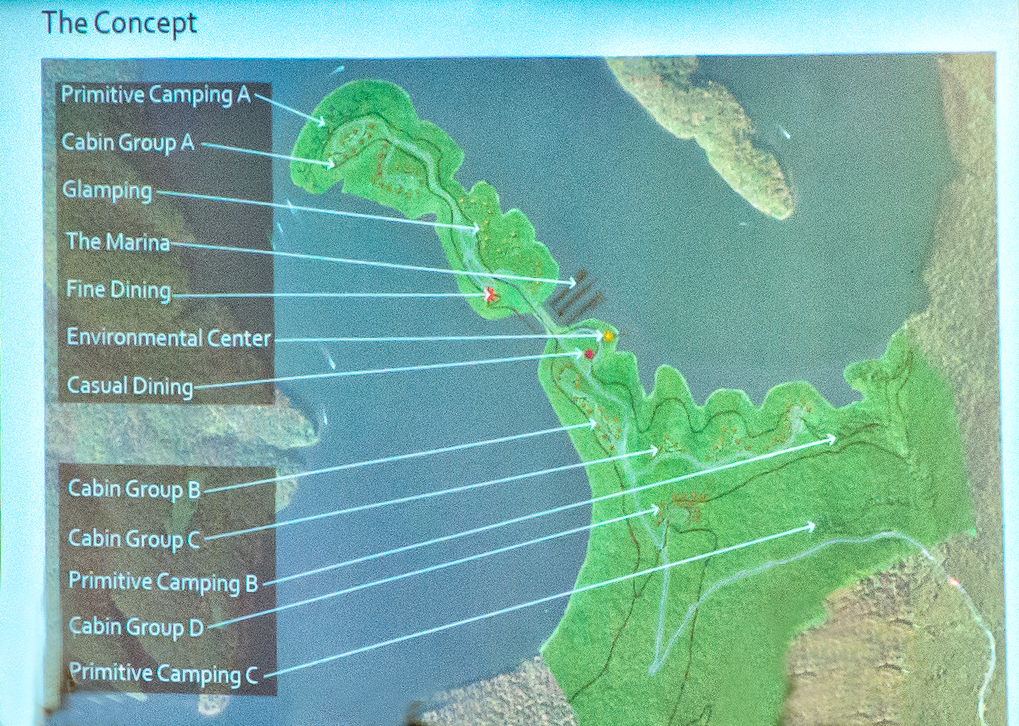 For now, we were concentrating on making a list of animals and plants that we found on the peninsula. The rocky outcroppings were beautiful and sparsely vegetated. The extreme conditions mean that very few plants are adapted to withstand the arid, steep slopes. However, we were dismayed to see a number of non-native invasive species gaining a foothold: Common Mullein (Verbascum thapsus), Tree-of-Heaven (Ailanthus altissima), and Japanese Stilt Grass (Microstegium vimineum) were a few species that definitely did not belong there.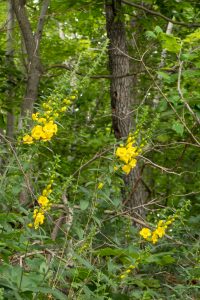 On the other hand, we were fascinated by the diversity of native plant species growing on the shale slopes and in the upland forest. Several native species were new to me: False Foxglove's (Aureolaria laevigata or A. virginica) beautiful yellow spires were in full bloom, aromatic Common Dittany (Cunila origanoides) was a new mint for my life list of native plants, and I had never seen Creeping Bush Clover (Lespedeza repens) before. There was also a healthy forest on the Peninsula - some big Black Oak (Quercus velutina) and Chestnut Oak (Q. montana) were mixed in with a good diversity of other tree species, including Eastern Red Cedar (Juniperus virginiana) and Virginia Pine (Pinus virginiana).
While we did not identify any of the rare shale plants or insects, our short study of the Peninsula gave us an appreciation for shale barrens habitat, as well as a renewed vow to try to save it from development. Please sign the JVAS Petition to protect the Hawn's Bridge Peninsula.