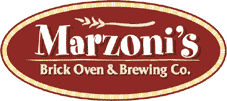 Reservation and payment are due by Tuesday, Nov. 18 if you'd like to join us for the Christmas Bird Count supper on December 20. We'll be meeting at 5:30 at Marzoni's Brick Oven & Brewing Co. at Pinecroft, 1830 E. Pleasant Valley Blvd, Altoona. (Here's a map.)
You don't have to participate in the count to join us for dinner!
The meal will be buffet style with three delicious Italian entrées from the Banquet Menu:
Eggplant Parmigiana (Meatless)
Beef Tips Marsala with mashed potatoes and vegetables
Chicken Alfredo
Also included:
Fresh Garden Salad
Unlimited Bread Sticks
Soft drinks, Juice, Coffee, and Tea (Free Refills)
Marzoni's own, hand-crafted beer is available at an additional cost.
Only $18 per person (includes gratuity). Make check payable to Laura Jackson and mail to:
8621 Black Valley Road
Everett, PA 15537
or pay at the Nov. 18 JVAS program meeting.
For more information on the Christmas Bird Count, see the event description, and be sure to read CBC compiler Steve Bonta's article on the front page of the Gnatcatcher.