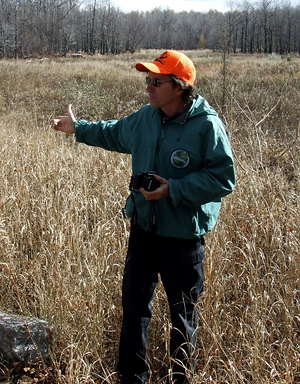 Archery season for antlered and antlerless deer begins today statewide in Pennsylvania. Although archers tend to make very sure of their targets, it's still a good idea for anyone in the woods — birdwatchers, hikers, mushroom gatherers, etc. — to wear a blaze-orange cap at least, if not a vest or coat as well. In State Game Lands it's more or less mandatory, but state forests, state parks, and most other public lands are open for hunting as well. Later on in November, when regular rifle deer season comes in after Thanksgiving, non-hunters should probably stay out of the woods altogether on opening day and the first Saturday, and be very cautious and visible for the rest of the season. And turkey season, which is in November, is also a very good time to get shot if you're not wearing blaze orange. Gobbling and scratching in the leaves is also discouraged.
See the complete list of 2013-2014 hunting seasons on the Game Commission website. (Scroll down for the map of wildlife management areas. Our area is split between 4D, 4A and 2C. )
Needless to say, as a conservation organization, Juniata Valley Audubon strongly supports deer hunting, and many of our members are also hunters. Shoot a deer, save a wood thrush.