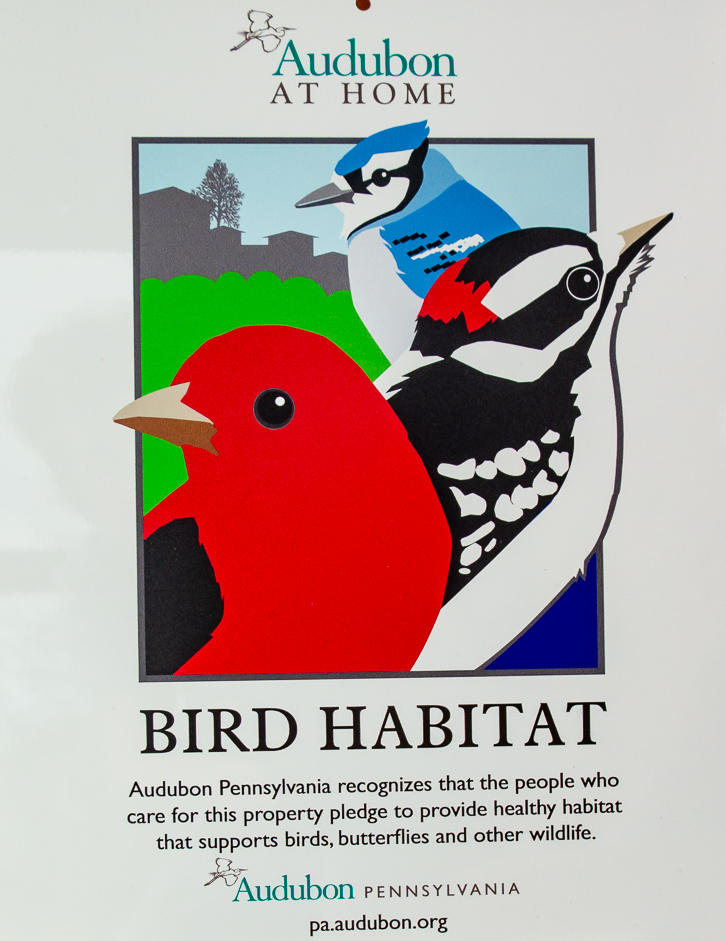 Juniata Valley Audubon Society is pleased to promote the Bird Habitat Recognition Program. A yard sign like the one above and a Habitat Discount card are included with your $25 donation to PA Audubon. Be sure to list Juniata Valley Audubon Society as the Audubon Chapter in your area.
No property size limits
Sign (see above) is included with registration! (9" x 12", Metal)
Homes, schools, businesses, parks, and public land can join
Help us promote Healthy Yards that are easy on birds, babies and bank accounts
Habitat Discount Card will help you save money at businesses across the state
Download the Property Application and mail to Audubon PA - Bird Habitat or complete the form online at www.pa.audubon.org/get-involved/bird-habitat-recognition-program-0.
Your Bird Habitat could qualify for a special award! Juniata Valley Audubon Society will award a certificate and $25 to one outstanding Bird Habitat in each of the following counties: Bedford, Blair, Centre, Cambria, and Huntingdon. To apply, contact JVAS VP Laura Jackson at [email protected] or call 814-652-9268. Remember, enter the Bird Habitat Program first.
Improving the quality of land for wildlife is the single most constructive step we can take to assist wild bird populations.
Stephen Kress, Audubon Biologist