Date/Time
Date(s) - Tue Mar 16, 2021
7:00 pm - 8:30 pm
Category(ies)
A multimedia presentation, this talk explores a kaleidoscope of fascinating behaviors in the bird world through the lens of five arenas of daily activity — communication, work, play, love, and parenting. It tells stories about some of the extraordinary ways that birds do these things and the secret, sophisticated intelligence underlying their behavior. And it explores the new discoveries that are overturning many of our old, conventional ideas about how birds live their lives, describes how science is making some of these astonishing discoveries, and shows the most stunning examples from each section of the book. The talk ranges from the tropical rainforests of eastern Australia and the remote woodlands of northern Japan, to the rolling hills of lower Austria and the islands of Alaska's Kachemak Bay, and includes audio, video, and spectacular photos by professional photographers.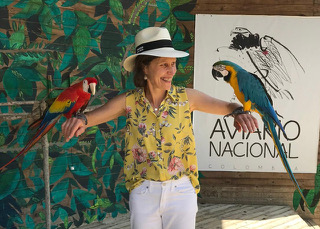 JENNIFER ACKERMAN (website) is a New York Times bestselling author who has been writing about science, nature, and human biology for more than three decades.  She is the author of eight books.  Her most recent book, The Bird Way: A New Look at How Birds Talk, Work, Play, Parent, and Think, was published in spring of 2020 by Penguin Press and is described by reviewers as "splendid and spellbinding," "exhilarating", "an enthralling study of the avian world." The book was selected as an Editor's Choice by the New York Times and a "best summer science book of 2020" by NPR's Science Friday and will be published in more than15 languages.  Her previous book, the bestselling The Genius of Birds is described by Scientific American as "a lyrical testimony to the wonders of avian intelligence," and by The Wall Street Journal "a gloriously provocative and highly entertaining book." The Genius of Birds was named one of the 10 best nonfiction books of 2016 by The Wall Street Journal, a Best Science Book of 2016 by National Public Radio's "Science Friday", and Nature Book of the Year by the London Sunday Times.  It is published in more than 20 languages. 
Try to log in about 5 to 10 minutes before 7:00 pm.
To join by computer, use this link:
https://psu.zoom.us/j/97418229426
To join from the Zoom app on a smartphone: enter this meeting ID:
974 1822 9426
Passcode is: 123456
To join by phone, call this number: +1 301 715 8592 (US Toll)
Enter the meeting ID followed by the pound sign.
974 1822 9426
Passcode is 123456